Yogi Bear was the boyfriend of Cindy Bear and the best friend of Boo-Boo Bear.[1]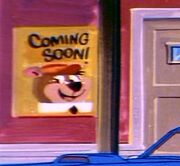 On this Earth, Yogi Bear was clearly a cartoon character from a famous television show.
A movie poster with Yogi Bear was hanging on a building's wall in the 1st Street Factory District.
On this Earth, he was a real person, and his friend Boo-Boo sometimes hung out with Robin, Chicken and various other famous sidekicks. at Hadjis.
His girlfriend Cindy, even had a photograph of herself hanging on the wall of that restaurant.[3]
Powers and Abilities
None.
Unknown.
Appearances
The New Adventures of the Wonder Twins
References
External Link
Community content is available under
CC-BY-SA
unless otherwise noted.