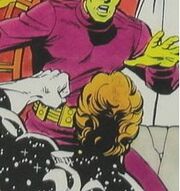 The Xanthuans were a humanoid race that were natives of the planet known as Xanthu; which was located somewhere in the territory of the United Planets.
The Xanthuans were the genetic descendants of human colonists, which were among the first Earthlings to leave Earth to live on a world beyond the sol system.
History not yet written.
Known Xanthuans
Notes
References
↑ As seen in the DC Heroes RPG sourcebook: Knight to Planet 3 (1987).
↑ For more information about that DC comic book, click here.
External Links
Community content is available under
CC-BY-SA
unless otherwise noted.