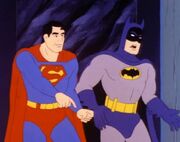 The World's Finest Team, usually just called World's Finest; was the super-duo of Superman and Batman.
The Superman Family and the Batman Family have teamed up on a number of occasions, especially Superman and Batman alone.
The fact that they were both the most popular members of the Justice League of America made them a famous and favorite team-up as well.
This section is not yet written.
Notes
References
↑ As seen in the Superfriends season seven episode Prisoners of Sleep (1983).
↑ Individually, Superman was created by Jerry Siegel and Joe Shuster, and Batman was created by Bill Finger and Bob Kane. Also, Superman and Batman teamed up prior to this, but they weren't an official team yet.
↑ For more information about that DC comic book, click here.
External Link
Community content is available under
CC-BY-SA
unless otherwise noted.