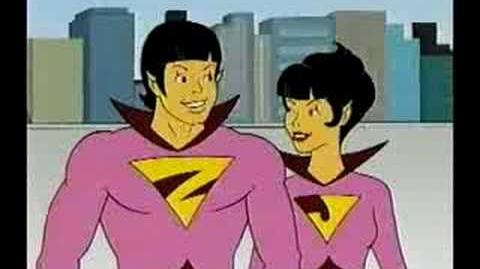 This is a commercial on Cartoon Network. It starred Wonder Woman and the rest of the Super Friends.
Story
Outside the Hall of Justice, Wonder Woman is trying to get inside her Invisible jet, but she is unable to. Aquaman approaches and asks her what seems to be the trouble. The Wonder Twins and the Dynamic Duo also come to see what's up. She tells them she locked her keys in the jet. Robin then says: "Holy keys locked in the jet, Batman!" Wonder Woman rolls her eyes. Batman asks her if she keeps a spare set of keys in the Hall of Justice. She tells him she never needed to. The Zan and Jayna then say that they can help. After activating their powers, Zan shapeshifts into an ice coat hanger. Batman then begins to try and unlock it with the hanger. But Aquaman asks why he didn't just turn into a key.
Community content is available under
CC-BY-SA
unless otherwise noted.