Why Superheroes Make Terrible Bosses is the second episode of the fan film series known as Meanwhile, At The Hall of Justice. It is the sequel to Superman's Dark Secret, and it features a humorous, but dark tale about the Super Friends encouraging Marvin, Wendy and Wonder Dog to go up against the supervillain known as Doomsday.
Story
Coming soon!
Fan Production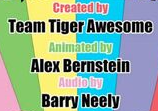 The following article contains fake information about the SuperFriends.
(This template will categorize articles that include it into the "Fan productions " category.)
Community content is available under
CC-BY-SA
unless otherwise noted.