The White House

The White House is the official residence and principal workplace of the President of the United States. Located at 1600 Pennsylvania Avenue NW in Washington, D.C., it was designed by Irish-born James Hoban, and built between 1792 and 1800 of white-painted Aquia sandstone in the late Georgian style. It has been the residence of every U.S. President since John Adams. When Thomas Jefferson moved into the home in 1801, he (with architect Benjamin Henry Latrobe) expanded the building outward, creating two colonnades that were meant to conceal stables and storage.
In 1814, during the War of 1812, the mansion was set ablaze by the British Army in the Burning of Washington, destroying the interior and charring much of the exterior. Reconstruction began almost immediately, and President James Monroe moved into the partially reconstructed house in October 1817. Construction continued with the addition of the South Portico in 1824 and the North in 1829.
Today, the White House Complex includes the Executive Residence, West Wing, Cabinet Room, Roosevelt Room, East Wing, and the Old Executive Office Building, which houses the executive offices of the President and Vice President.
The White House is made up of six stories—the Ground Floor, State Floor, Second Floor, and Third Floor, as well as a two-story basement.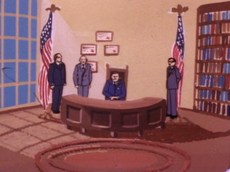 Coming Soon!!
Appearances
Coming Soon!!
Community content is available under
CC-BY-SA
unless otherwise noted.