You may be looking for Wendi Harris Tyler of Earth-2A, wife of Rex Tyler the Hourman.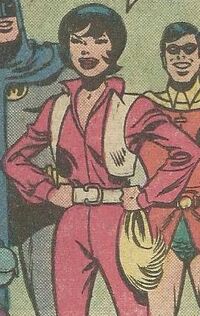 Wendy Harris is a good friend of Marvin White. Together they are members of the Junior SuperFriends.
During her tenure as a Jr. SuperFriend, Wendy worked at the local Library, name Nal Library near the Hall of Justice.[1]
Wendy is the niece of Harvey Harris, a detective who trained a young Bruce Wayne in becoming a master detective.[2] This would explain why she was associated with the SuperFriends.
As a Junior SuperFriend, Wendy's cleverness and resourcefulness made her invaluable to the other SuperFriends.
In 1977, after several years as a Junior SuperFriends Member, Wendy moved to Paradise Island to attend an Amazon Collage and continue her training.[3]
Two years later, she returned with Marvin to aid the new Junior SuperFriends, the Wonder Twins, posing as Zan's and Jayna's human disguises, "John" and "Joanna", to fool a criminal who had deduced the Wonder Twins' and Batman's secret identities.[4]
Appearances
External Links
Appearances in Other Media
References