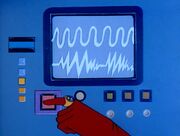 A viewing screen or viewscreen was a type of computer screen used for espionage or surveillance. Most screens of this type were made possible by the use of cameras, which then transmit the image to the screen by television or some other form of transmission signal. The term also was used to refer to the monitor of a personal computer.
The Justice League Satellite makes it possible for images all over the Earth and even in many areas of outer space to be transmitted to the Justice League's viewing screen, which is the Justice League Monitor, located in the Hall of Justice.
The Raven's spacecraft had a viewing screen that he used for the purpose of targeting objects he was going to steal with the gravity field of a White dwarf.[2]
References
External Links