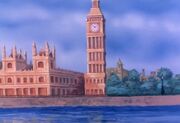 The Victorian era was the era in which Queen Alexandrina Victoria ruled the United Kingdom.
This era began on June 20, 1837; and ended with her death, on January 22, 1901.
During this period, Sherlock Holmes and Doctor John Watson had many adventures together solving mysteries in London and the surrounding area in England.
People that lived during this eraEdit
Victorian artEdit
ReferencesEdit
↑ As seen in the Superfriends season 1 episode The Planet-Splitter (1973).
External LinksEdit