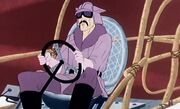 The Valderon War was a civil war that occurred between two Valderon cultures; the Dragon Riders and the Sky Riders.
Prelude to the war
Before the war began, El Hanuri, the king of the Dragon Riders was a good friend of Agoro, who would eventually be come the ruler of the Sky Riders.
Their friendship eventually turned into a rivalry, as Agoro didn't agree with all of the teachings of the Dragon Riders. This was especially the case with matters involving religion.
Over time, it was decided that Agoro should be exiled from the land of the Valderons, since he was in disagreement. Agoro had acquired quite a following however, and many joined him.
At some point, he used the Valley of Time to travel to the future and learned how to build flying machines. He built them and used them as warplanes.[3]
The war
After his airplanes were ready, the war had began. The Freedom Force even intervened, trying to stop the war, which eventually they do, by appealing to both sides of the conflict so as to find a way to make peace.[4]
Aftermath
Following the declaration for peace, it was decided that both sides had made mistakes in the past, and the best thing to do was to start making changes and becoming friends in the future.
References
Community content is available under
CC-BY-SA
unless otherwise noted.