Hi there!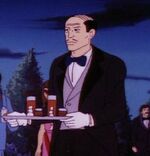 Welcome to the SuperFriends wiki, and thank you for your contributions! There's a lot to do around here, so I hope you'll stay with us and make many more improvements.
Recent changes is a great first stop, because you can see what other people are editing right this minute, and where you can help.
Need help? Please visit the Help with Editing page and specifically our Manual of Style to review our guidelines before making significant edits. If you have any questions, please feel free to ask me on my talk page
I'm really happy to have you here, and look forward to working with you!
Superman Fan 14:37, 1 April 2009 (UTC)
Hello
Hi Duel44! I know that you frequent our wiki. I was hoping I could encourage you to set up a user account with us so we can know a little bit more about you. We understand that you may not be able to contribute regularly, but a profile will help expand out community and your connection to our wiki. Thanks Again! --Superman Fan 15:38, 9 May 2009 (UTC)
Welcome Aboard
Hi Duel44,
Great to have you on the team. I look forward to checking out your contributions. --Superman Fan 13:56, September 5, 2009 (UTC)
RE: Hello
Thanks for the heads up! I haven't been on in a few days.
Unfortunately, I won't be able to contribute here or over at the Batman wiki for another month. But I plan to be back in full force.
Thanks for the kind words concerning the Batman wiki...your work quite extensive over there.
Look forward to seeing more of your contributions here....
--Superman Fan 23:51, November 3, 2009 (UTC)
Latest Additons
Hey man, I was looking over your latest additions and I was hoping that you could cite the source for your contributions. For example:

Appearances
SuperFriends Episode.......
or
SuperFriends Comic Book Issue....

You follow? If you have any questions or want me to clarify, just ask.
Thanks. --Superman Fan 23:57, November 3, 2009 (UTC)
Hello
I know very little about the different universes. I do know that we try to adhere to Earth-One in that it was what the SuperFriends Universe (Earth-1A) is based. Meaning that what existed at the time (Earth-One, Silver Age characters etc), is what we base the SF characters on. That is our objective, make sense. Beyond that, we rely on editors like yourself to keep it straight.
.....little blurb about continuity.....
--Superman Fan 17:00, January 31, 2010 (UTC)
OK..you had mentioned something about the name. If you think that it should be different or changed, based on what I had mentioned, then go right ahead. As far as the galleries are concerned, I think that is a fine idea. I have a categorized image page that could be a help (and needs updating). If we have a gallery page as long as it adheres to the standard I mentioned earlier, that should be fine (which is why I mentioned it). Does that help? --Superman Fan 17:15, January 31, 2010 (UTC)
Community content is available under
CC-BY-SA
unless otherwise noted.