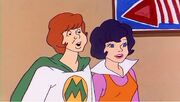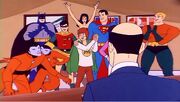 The United States Congress is bicameral legislature of the federal government of the United States consisting of two houses: the lower house known as the House of Representatives and the upper house known as the Senate. Congress meets in the Capitol in Washington, D.C.
The Super Friends met with Krim at the headquarters of the United States Congress where they heard the story of how Krim's home planet of Balunia was rendered unlivable due to the pollution of the atmosphere, and that the same thing will happen to Earth unless drastic measures are taken to prevent it.[3]
When the Washington Monument was stolen by the Raven, there was some fear that the headquarters of the United States Congress might be next.[4]
When Marvin White and Wendy Harris took a taxicab, they drove past the Congress building. They had speculated that the Raven may make an attempt to steal the building but he instead ended up taking the Washington Monument.[5]
Houses of Congress
Upper House:
Lower House:
United States Congress Headquarters
References
External Links
Community content is available under
CC-BY-SA
unless otherwise noted.