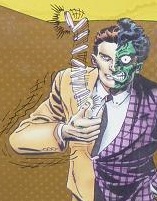 Two-Face's coin is a double-headed silver dollar. One side of the coin is scratched up and defaced, while the other side is clean. Two-Face uses this coin when making decisions about what to do. When he flips it and it lands on the defaced side, he commits acts of evil, such as a criminal act, whereas when it lands on the side that is clean, he is forced to do acts of good, such as letting his victims go free.
References
↑ This art is taken from the DC Comics Super Heroes action figure of Two-Face.
Community content is available under
CC-BY-SA
unless otherwise noted.