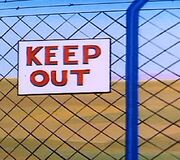 Trespassing refers to someone going inside private property without permission. It is usually not considered a crime, but it is against the law.
Once Doctor Shamon accused Marvin and Wendy of trespassing on private property when they entered his lab inside Mystery Mountain.[2]
There was a "Keep out" sign at Cape Courageous, which didn't allow trespassers on the premises, because anyone who entered must have a top-secret pass.[3]
Marvin and Wendy once again were trespassing at the Rebos' Auto Parts & Wreck Yard when they were looking for Wonder Dog.[4]
A "Keep Out" sign was also on the door to the hangar at UltraTech. This didn't stop Batman and Robin from taking a peak inside though, despite the fact that the secretary told them they weren't supposed to be in there.[5]
Appearances
References
Community content is available under
CC-BY-SA
unless otherwise noted.