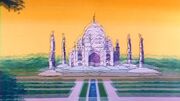 A tremor was a geological disaster which caused seismic activity. In the 1970s, there were more than fifty thousand tremors a year throughout the Earth.[2]
When Rao was beginning to expand, this caused violent tremors on Krypton leading to a chain reaction that led to it's destruction.[3]
The Taj Mahal was destroyed by a tremor, but Flash rebuilt it.[4]
At the Seismological Bureau, a getigraph is used to track tremors.[5]
References
External Links
Community content is available under
CC-BY-SA
unless otherwise noted.