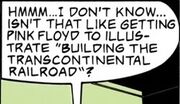 The transcontinental railroad was a type of railroad that had stopped at every major city on a continent.
In the late 1870s, with the recent completion of the transcontinental railroad, Keystone City becomes an important stop on that line.[2]
In 1988, according to an issue of People Magazine that Jerry McGee was reading; a village in Italy was erecting a bronze sculpture of Madonna in a bikini with suitcases at her feet, to illustrate "the immigrant experience."
Jerry thought that that was a lot like trying to get Pink Floyd to illustrate "building the transcontinental railroad."[3]
Appearance
References
External Link
Community content is available under
CC-BY-SA
unless otherwise noted.