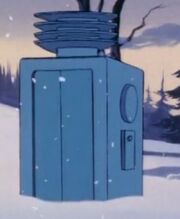 The Time Elevator was a time machine that was designed by Doctor Wells.
Doctor Wells tested his Time Elevator using Wonder Woman and the Atom as his personal "guinea pigs."
They traveled to 1776, 1667, 70,000,000 BC and finally back to 1980 before they were able to free themselves from their temporal prison and capture the scientist.
Appearances
Notes
References
Community content is available under
CC-BY-SA
unless otherwise noted.