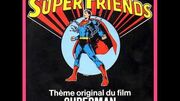 The Theme from Superman is a well-known piece of music written by John Williams for the Superman films of the '70s and '80s.
In 1978, a disco version of the song was recorded for the Super Friends record Let's All Dance With Super Friends.
It was track 2 on side A of that record.
Lyrics
The song was completely instrumental, and it had no lyrics, but there were parts of the song that some fans often would sing "Superman!" at times.
Despite having no lyrics, anyone who is familiar with cinema in the last several decades would instantly recognize it. It's as familiar as the Star Wars theme, which was also written by John Williams.
References
External Link
Community content is available under
CC-BY-SA
unless otherwise noted.