You may be looking for the Plastic Man (TV series).
You may be looking for Plastic Man (SuperFriends Member).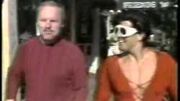 The Plastic Man Comedy/Adventure Show was a Saturday morning cartoon produced by both Ruby-Spears Productions and Hanna-Barbera Productions from 1979 to 1981. It was shown right after Super Friends on the ABC Network and featured various adventures of the DC Comics superhero Plastic Man.
This show ran 2 hours it's first year. Each show combined two episodes of the Plastic Man Segment (one twenty-two minute and one ten and a half minute episodes), two eleven minute Mighty Man and Yukk stories, a ten and a half minute Fangface and a twenty-two minute Rickety Rocket show.
The show was repackaged by 'Arlington Television' into 130 half-hour episodes, and released into national, first-run-off-network daily syndication in 1984. The Plastic Man Comedy Show was produced and directed by Steve Whiting and featured a live-host "Plastic Man", played by Taylor Marks.
Segments
Plastic Man Segment (part of the Earth-1A Continuity)

Baby Plas

Segment (part of the Earth-1A Continuity)

Plastic Family

Segment (part of the Earth-1A Continuity)
Mighty Man & Yukk Segment
Fangface and Fangpuss Segment (the second season of Fangface)
Rickety Rocket Segment