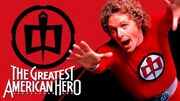 The Greatest American Hero was a superhero television series that aired on ABC from 1981-1983.
The show was not set in the Superfriends universe, although the Superfriends existed in the continuity of the series as fictional characters from a cartoon show that the hero's son was watching, and may have played a partial role in inspiring him to become a superhero.
Many of the voice actors from Superfriends could be heard on the TV show, such as William Woodson as the Narrator, Danny Dark as Superman and Olan Soule as Batman.
The scenes shown were actually not all from the same episodes, and the musical score, although it sounded very similar, was not the same as well.
Gallery
External Links
Community content is available under
CC-BY-SA
unless otherwise noted.