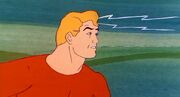 Telepathy was a mental power which enabled one with such an ability to transfer his or her own thoughts to another person.
Aquaman had a limited form of this power, called aquatic telepathy, which allowed him to communicate with marine creatures.
Although the Balunians were capable of incredible psychokinetic powers, which they called teleportation, they were not capable of communicating telepathically.[3]
Aquaman and Wonder Woman were telepathy experts, and they knew that telepathic waves could only travel so far. They assumed the same would be the case for the Balunian's psychokinetic waves.[4]
References
External Links
Community content is available under
CC-BY-SA
unless otherwise noted.