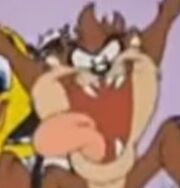 Tasmanian devils were mammals indigenous to Tasmania, Australia.
Hugh Dawkins was a member of the Global Guardians who had the ability to transform into a humanoid Tasmanian devil.[2]
The Tazmanian Devil was a character from the Looney Tunes animated films that was also a Tasmanian devil.
However in the Looneyverse, an alternate universe where animals had the ability to communicate through speech; the Tazmanian Devil was a real person, and he even had a Flash costume that he wore occasionally when taking on the role as Taz-Flash.
References
↑ As seen in the comic strip of the McDonald's Happy Meal for the Super Looney Tunes toy. (1992).
↑ As seen in the Superfriends comics.
External Link
Community content is available under
CC-BY-SA
unless otherwise noted.