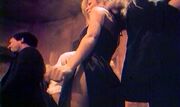 The Swinging Sixties refers to the period, culture and fashion during the 1960s. The "Swinging Sixties" culture began in London, England, which is why this period is also called Swinging London, but it wasn't limited to the United Kingdom, and it leaked into the United States of America, especially the rock and roll music of Great Britain, which came to be known as the "British Invasion."[2]
During this period, the Cold War was at its' peak, and many people feared for their lives due to the threat of nuclear weapons. At this time, a spirit of rebellion among the youth was at a rise, and some saw musical artists such as The Beatles as a reflection of that.[3]
The Justice League of America were gathered together for the first time during this period, after years of solo adventures.[4] The African/American community in the US were also granted more equal human rights than before, [5]and the subject of free love became popular.[6]
Events
References
External Links
Community content is available under
CC-BY-SA
unless otherwise noted.