DiC Entertainment

Original Run
April 20, 1991 – May 18, 1991
Production

"Swamp Thing! ...You are amazing!" - Opening Theme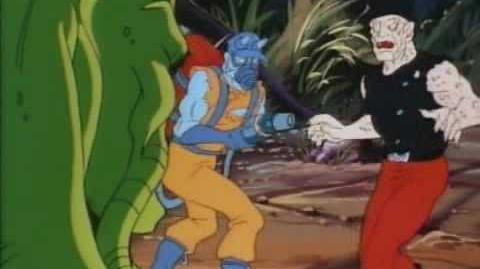 Swamp Thing was a short lived television series that ran five episodes in 1991. The show featured the marsh superhero known as Swamp Thing. It was made by DIC Entertainment and Batfilm Productions. The show even spawned a toyline and a video game that was based on the series.
The animated series rejects the popular Alan Moore revision of Swamp Thing's origin and portrays him with his original origin as a man turned into a plant-like entity.
Anton Arcane takes the role of the main villain responsible for Alec Holland's transformation into Swamp Thing. Arcane is backed by his gang of Un-Men: Dr. Deemo, Weedkiller, and Skinman.
Swamp Thing also has two friends named Tomahawk and Bayou Jack. Tomahawk is Native American.[2] Bayou Jack is a Vietnam veteran.
Cast
| | | |
| --- | --- | --- |
| Heroes | Villains | Supporting Cast |
Episode List:


On August 31, 2004, UAVCO released Swamp Thing - Guardian of the Earth to DVD. This set includes all five episodes of the series and was released in time to promote UAVCO's Animation Station line-up.[3][4]

The DVD is currently out of print.
References
Community content is available under
CC-BY-SA
unless otherwise noted.