You may be looking for Superman (Kal-L) from Earth-2A
You may be looking for Superman (SuperPowers Figure).
You may be looking for Superman (SuperFriends Member).
You may be looking for Superman (1940s cartoons).
You may be looking for The New Adventures of Superman (1966-1967).
You may be looking for Hanna Barbera's Super Friends (1973-1985).
Superman
1988 animated series
Original Run
9/17/88 – 12/10/88
Production

Creator(s)
Jerry Siegel
Joe Shuster
Writer(s)
Cherie Wilkerson
Joe Shuster
Jerry Siegel
Marv Wolfman
Lawrence G. DiTillio
Buzz Dixon
Michael Reaves
Chris Weber
Karen Willson
Director(s)
Cosmo Anzilotti
Bill Hutten
Tony Love
Producer(s)
Larry Huber
John Dorman (supervising producer)
Executive Producer(s)
Joe Ruby
Ken Spears
Superman was a 1988 animated Saturday morning television series produced by Ruby-Spears Productions and Warner Bros. Television that aired on CBS featuring the DC Comics superhero of the same name (coinciding with the character's 50th anniversary, along with the live-action Superboy TV series that year). Veteran comic book writer Marv Wolfman was the head story editor, and noted comic book artist Gil Kane provided character designs.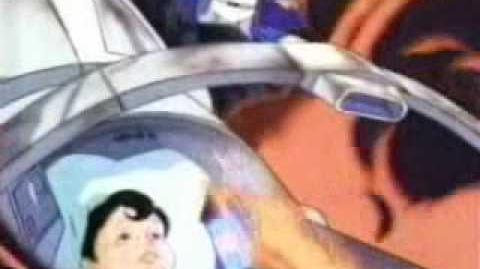 The "Superman Family Album"
The final four minutes of each Superman episode were devoted to a brief snapshot from the "Superman Family Album." These biographical segments deviated from the contemporary comics to have Clark have his powers fully developed since infancy as opposed to developing as he matured. These stories depicted the Smallville misadventures of the young Kryptonian immigrant as he faces typical childhood trials with his first day at school, an overnight scouting campout, getting a driver's license, his first date, High School graduation, and ultimately his premiere as Superman.
Cast
Episodes
|     Ep #     |     Episode Name     |     The "Superman Family Album"     |     Initial airing     |
| --- | --- | --- | --- |
| 1 | Destroy the Defendroids |     The Adoption |     September 17, 1988     |
| 2 | Fugitive from Space |     The Supermarket |     September 24, 1988     |
| 3 | By the Skin of the Dragon's Teeth |     At the Babysitter's |     October 1, 1988     |
| 4 | Cybron Strikes |     The First Day of School |     October 8, 1988     |
| 5 | The Big Scoop |     Overnight with the Scouts |     October 15, 1988     |
| 6 | Triple-Play |     The Circus |     October 22, 1988     |
| 7 | The Hunter |     Little Runaway |     October 29, 1988     |
| 8 | Superman and Wonder Woman vs. The Sorceress of Time    |     The Birthday Party |     November 5, 1988     |
| 9 | Bonechill |     The Driver's License |     November 12, 1988     |
| 10 | The Beast Beneath These Streets |     First Date |     November 19, 1988     |
| 11 | Wildsharkk |     To Play or not to Play |     November 26, 1988     |
| 12 | Night of the Living Shadows |     Graduation |     December 3, 1988     |
| 13 | The Last Time I Saw Earth |     It's Superman |     December 10, 1988     |
Video game tie-ins
There were a few Superman video games released during the time this cartoon was on the air:
Superman (NES)

Superman: The Man of Steel
External links