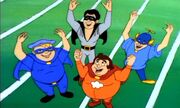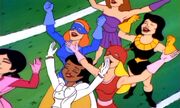 Superheroes are typically people who have super powers, and use them to fight off the forces of evil, and protect humanity from other disasters.
Not all superheroes have super powers however, some are just incredibly athletic or intelligent, or just well trained in the martial arts. Take Batman for example; He's a superhero with no super powers whatsoever. Still, he's considered one of the most famous superheroes. (although the term Mystery Men is also used for non-powered heroes)
Most superheroes wore special costumes. They usually have capes, cloaks, masks and other elements in their costumes. Superman, Batman, Green Lantern and Wonder Woman are among the most famous superheroes.
Hero vs. superhero
Although the terms hero and superhero were very often used interchangeably, they usually meant something a bit different.
Although any superhero would also be considered a hero, not every "hero" would also be considered a superhero. It wasn't always easy to distinguish them, but usually a "hero" had to have superhuman abilities or at least an incredible set of skills in order to be considered a "superhero." A costume was normally enough, but even then, sometimes such characters were only called crimefighters or costumed crimefighters or Mystery-Men.
See Also
References
External Links
Community content is available under
CC-BY-SA
unless otherwise noted.