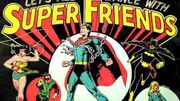 Superfly is a song written by Fiona Wells and Frank Wilding.
In 1978, it was recorded for the Super Friends record Let's All Dance With Super Friends.
It was Track 5 on side B of that record.
Lyrics
The song pretty much just says "Superfly" over and over again.
References
External Link
Community content is available under
CC-BY-SA
unless otherwise noted.