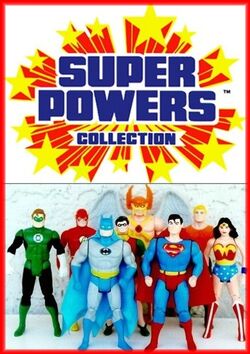 Here are some of the SUPER POWERS toy commercials, hosted by You Tube.
SUPERMAN & FLASH VS. LEX LUTHOR & THE JOKER
thumb|300px|left This seems to be one of the first commercials in the toy series as it shows what happens when you squeeze the figures and that each figure comes with a mini comic book. Like like how it shows the Flash figure running. I am surprised though, that they would feature the Joker figure and not have him go up against Batman.
THE BATMOBILE
thumb|300px|left Ok. What kid never wanted the Batmobile? Any kid who was a Comic Fan or even just a Batman Fan had at least one version of a toy Batmobile in their bedroom. This one was probably one of the best, because Kenner used the same design for the Batmobile that was used on Superfriends.
HALL OF JUSTICE PLAYSET
thumb|300px|left Ok, at least Kenner did something that Mego failed to do. They made the Hall Of Justice look like the headquarters on Super Friends. (Well at least on the outside, but why make it yellow? I guess they wanted to keep Green Lantern out of there. LOL!) Still, this is a fun commercial to watch. Tagged on after it is another SUPER POWERS commercial showing figures of Green Lantern, Hawkman, Batman, and a few others.
FIRESTORM AND DR. FATE FIGURES
thumb|300px|left This commercial introduces Firestorm and Dr. Fate in the toyline as well as Darkseid and his minions. I really like how they did the Firestorm action figure.
DELTA PROBE ONE VS. DARKSEID DESTROYER
thumb|300px|left Darkseid's command ship, and a space fighter ship for the Justice League.
Community content is available under
CC-BY-SA
unless otherwise noted.