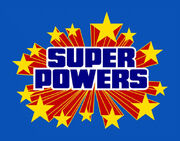 Publisher: DC Comics
Publication Date: 1984 - 1985
Country: United States
Language: English
Notes: The first two waves of Super Powers action figures by Kenner, each came with a mini-comic book starring that particular character. These comics were 4.25 inches by 2.75 inches, and had 13 pages of story.
Number of issues cataloged: 23
Below is a list of them.
Series 1 - 1984
Series 2 - 1985
Community content is available under
CC-BY-SA
unless otherwise noted.