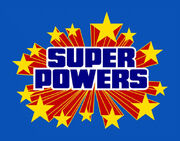 Volume Two of the Super Powers series was published in 1985.

Publisher: DC comics
Publication Dates: September 1985 - February 1986
Number of issues cataloged: 6

The series focuses on the Justice League's battle with Darkseid, which is further explored in the last two seasons (Season 9, 1984 and Season 10, 1985) of the cartoon series.
It is also chronicled in the Super Powers mini-comics (1984-1985).
Crisis on Infinite Earths: The Compendium formally established that Super Powers volumes 1, 2 and 3 as well as the Super Powers Collection as all happening on Earth-Thirty-Two
Issues
Community content is available under
CC-BY-SA
unless otherwise noted.