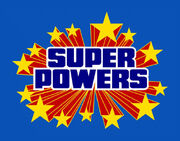 Volume One of the Super Powers series was published in 1984.

Publisher: DC comics
Publication Dates: July 1984 - November 1984
Number of issues cataloged: 5

The series focuses on the Justice League's further conflict with Darkseid, which started in The Bride of Darkseid (Part One), and the rest of season 9 and season 10 and is further explored in the next volume.
It is also chronicled in the Super Powers mini-comics (1984-1985).
Crisis on Infinite Earths: The Compendium formally established that Super Powers volumes 1, 2 and 3 as well as the Super Powers Collection as all happening on Earth-Thirty-Two
Issues
Community content is available under
CC-BY-SA
unless otherwise noted.