Welcome to SuperFriends Wiki.

We are currently editing over 9,001 articles, and we need your help!
This Wiki is dedicated to Hanna-Barbera's SuperFriends that aired on

from 1973-1985.
Browse the SuperFriends Universe
In Universe • Series and Episodes • Teams • Equipment • Minerals • Planets
Vehicles • Characters • Buildings • Cities • Places • Real World Articles • Known Universes
Earth-1A Timeline • Multi-Universes
Marc Tyler Nobleman Interviews
Marc Tyler Nobleman was able to interview 28 voice actors, writers, and animators from the Super Friends series!

To get started, go to "Super Friends" — Introduction at Noblemania.

This is part of a larger series entitled, 'Super '70s and '80s'.
| | |
| --- | --- |
| SuperFriends: Heroes and Villains | |
Hall of Justice
The Hall of Justice is the headquarters of the Justice League of America.
It is not exactly clear if the Hall of Justice was initially located in Gotham or in the city of Metropolis (what is clear in the animated series, is that Gotham and Metropolis are very close, possibly adjacent).
Originally the Hall was established to train young people to be crime fighters (such as Marvin White, Wendy Harris and the Wonder Twins). At the time it wasn't the JLA's main headquarters, the JLA Satellite was. But over a period of time, it seemed to have come to be the Justice League's official headquarters.
Hey everyone, check out the new fan art page! Upload your art and post it on this page!

Wally Burr (1926-2017)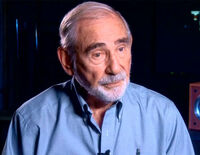 We at the Super Friends Wiki mourn the passing of one of animation's greatest voice directors.

Since the 1960's superhero cartoons had received good ratings there was interest in the early 1970's in creating a new series; despite interest groups protesting alleged violent content.

Hanna-Barbera took the reigns and produced a new series based on the DC Comics concept of the Justice League of America called Super Friends.

Debuting on ABC on September 8th, 1973, the Super Friends concept would go through various incarnations providing DC Comics fans adventures through 1985 on ABC.

The series was successful enough to merit a Super Friends (comic book) series helmed by E. Nelson Bridwell that ran from 1976 to 1981.
Copyright Information
The DC Universe characters and the distinctive likeness(es) thereof depicted in this site are Trademarks & Copyrights © of DC Comics, Inc. and Warner Brothers Entertainment. This Wiki is in no way associated with them nor sponsored by its producers. The information collected here, including but not limited to character biographies, episodes descriptions, quotes, and images, has been submitted for informational purposes by contributors who make no profit from the production of this site. The views expressed are not representative of the previously mentioned companies.
---
No copyright infringement is intended.
Community content is available under
CC-BY-SA
unless otherwise noted.