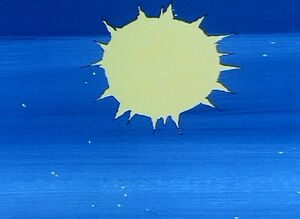 Sunlight is a portion of the electromagnetic radiation given off by the sun. It can also refer to light from any other star in the universe. Sunlight is a key factor in photosynthesis, which is vital to many species on Earth, however prolonged exposure can cause a human to sunburn.[2]
Yellow sunlight can give a Kryptonian amazing super powers, while red sunlight can take them away. Orange sunlight is capable of cutting a Kryptonian's power in half.[3]
Sunlight was the only thing that could destroy the Shamonite that fell to Earth from the space cloud. Superman used a telescope reflector to reflect sunlight to the dark side of the Earth, where the effects of the shamonite were causing trouble.[4]
On the planet Solar Terrarium, the atmosphere was so polluted with clouds of smoke that it blocked much of the sunlight from the Solar Terrarium sun.[5]
While on Solar Terrarium, a few members of the Super Friends cleaned up the pollution on the planet's atmosphere, allowing the sunlight to shine through again. Marvin White starts to sunburn because of it.[6]
It was a very sunny summer day on the chicken farm when Raven's Spacecraft flies by overhead, ruining the day for the chickens who lost their feathers.[7]
References
External Links
Community content is available under
CC-BY-SA
unless otherwise noted.