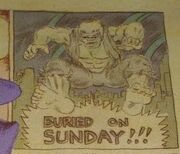 Sunday was the day after Saturday, and directly before Monday.
The holiday known as Easter fell on Sundays.
Sunday School was common at Baptist Churches on Sundays.[2]
There was a nursery rhyme called Solomon Grundy, and one of the lines of the rhyme was "Buried on Sunday."[3]
In 1988, on the eleventh of September, which happened to fall on a Sunday, Superman destroyed a comet that was on a collision course for Earth.[4]
Previous Day
Next Day
References
External Link
Community content is available under
CC-BY-SA
unless otherwise noted.