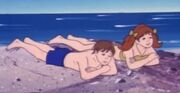 Sunbathing was a popular beach activity that involved a person bathing their body in the sunlight, in an attempt to get a suntan.
This was often done with the use of a protective lotion called sunscreen, otherwise a person would find themselves with a very terrible rash called a sunburn.
Most of the time when a person would sunbathe, a person would lie down in an area where there was little or no shade, such as on the sand of a beach; they would wear no or little clothing, especially swimsuits such as bikinis.
References
External Link
Community content is available under
CC-BY-SA
unless otherwise noted.