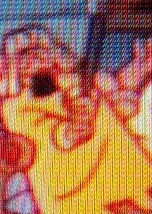 Star Wars was a science fiction franchise that began with a film that premiered in 1977.
One of the main characters in the film was named Darth Vader, who at different points in the franchise served as both protagonist and antagonist, depending on the film.
It was clearly one of the most influential movie franchises of all time, and it inspired much television and film franchises that followed.
Star Wars, much like Star Trek, were adventure movies set in outer space. But there was a stronger focus on fantasy elements, that were not unlike classic fairy tales, apart from the setting being in space.
In fact the opening line in every Star Wars film was "A long time ago, in a galaxy far, far away...", which was reminiscent of the typical opening narration of a fairy tale: "Once upon a time..." or other similar openings.
Many toys, action figures and dolls were made based on characters from Star Wars. One such toy was a Darth Vader toy that could be seen at Big Shott's Toy World.[2]
See also
Star Wars in the real world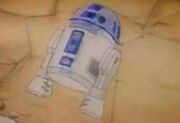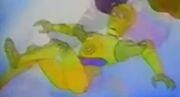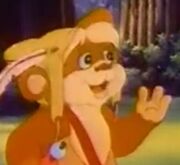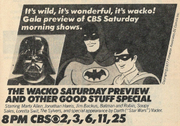 The Star Wars franchise was created by George Lucas. The toys for the franchise were made by Kenner, who would later continue to make more for years to come, as well as the Super Powers Collection.
Mego, who made The World's Greatest Super-Heroes! toys actually had a chance to make the Star Wars toys, but since the franchise was virtually unknown at the time (as the first film hadn't came out yet), they chose not to -- a decision they ended up regretting, considering the phenomenon that Star Wars became.
The comics for the franchise were published by a variety of publishers, but mainly Marvel Comics, DC Comics biggest rival publisher. Star Wars comics getting published by Marvel is especially the case today, as Star Wars is owned by Lucasfilm, which is a subsidiary of The Walt Disney Company, just as Marvel is.
Star Wars has often been compared to by the often rivaled Star Trek, another popular sci-fi franchise from ViacomCBS. That show in turn has often been compared to Doctor Who. Star Wars, Star Trek and Doctor Who have had a huge following.
Many elements from the Superfriends was clearly inspired by Star Wars, such as the design of the Hall of Doom, which clearly resembles the head of Darth Vader. Also Light Sabers have been used in the Super Friends.
References
External Links
Community content is available under
CC-BY-SA
unless otherwise noted.