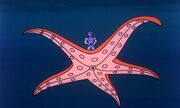 The Star Conquerors were the alien race that Starro belonged to.
They resembled Earth starfish, although they were far more intelligent and generally more massive and far more powerful.
According to one account, one Star Conqueror; the previously mentioned Starro, was apparently quite old, and claimed that he was one of the Elder Gods, which existed in the universe during the time when the War in Heaven took place, and Adam, the first man was put into the Garden of Eden.
He apparently was part of a group of deities, most of whom were different species. The lord of the Elder Gods was Ipsissimus, but he was clearly not a Star Conqueror, which suggests that those so-called gods were all different beings but with incredible power.
Star Conquerors have the ability to create spores that are clones of themselves, which could even attach themselves to other life forms and bend them to the will of the Star Conqueror who sent it.
Known Star Conquerors
Notes
Star Conquerors first appeared in Brave and the Bold # 28 (March 1960).[2]
References
↑ As seen in The Superman/Aquaman Hour of Adventure episode In Captain Cuda's Clutches (1967).
↑ For more information about that DC comic book, click here.
External Links
Community content is available under
CC-BY-SA
unless otherwise noted.