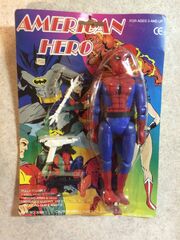 Action figure
Action figure line
Manufacturer
Unknown
Brand
Street Date
2004[2]
Details
Although this is a very cheaply made figure, I can't help but like it. I wouldn't mind having it in my collection. For one thing it's very articulated for such a cheap figure, and the card artwork is pretty cool. It's got Batman, Robin, Starman, Green Lantern, Doctor Mid-Nite, Spider-Man, Wonder Woman and Flash.
The only thing really stupid about this figure is that it comes with a bunch of weapons. And now I suppose you could pretend that they are the weapons that he disarmed from some criminals with his webshooters but I can't imagine Spider-Man packing heat.
References
↑

According to the ebay seller.
Community content is available under
CC-BY-SA
unless otherwise noted.