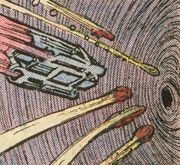 A space cruiser was usually a type of space warship, although they were used for a variety of purposes, such as transportation rather than for military purposes.
Darkseid had his very own space cruiser.[2] One class of space cruiser was the Mark 494, which was developed sometime around the 30th century.
Quarzz Teranh attempted to save two space cruisers from getting pulled into a black hole of massive size.
He created an energy barrier to stop them from getting pulled in, but they crashed through his energy barrier as if it were paper.[3]
Appearance
References
External Link
Community content is available under
CC-BY-SA
unless otherwise noted.