Warning: Explicit Content

The following article contains some form of adult content, such as disturbing images, graphic violence, sexual situations, or other forms of material that may not be suitable for younger readers or may be offensive to some readers. View at your own discretion.
(This template will categorize articles that include it into the "Explicit Content" category.)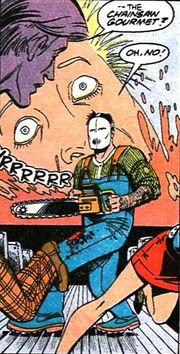 A Slasher film was a type of horror film that usually involved a murderer that killed people with knives or chainsaws.
Most films of this type were extremely violent, with a great deal of neck-slashing and blood-letting.
In Cannes, France; after taking the form of Godzilla, the Movie Buff had to escape in a less conspicuous manner. He then turns himself into the Chainsaw Gourmet a character from a slasher film called Secaucus Chainsaw Cookout. Realizing that was not much better, he tossed his chainsaw down and made a run for it.[2]
Appearance
References
↑ As seen in the comic story: You Oughtta Be in Pictures (1990).
↑ As seen in the comic story: You Oughtta Be in Pictures (1990).
↑ Reprinted in Super Powers # 24 (1992).
External Link
Community content is available under
CC-BY-SA
unless otherwise noted.