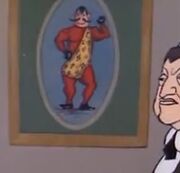 A sideshow was a show often seen at circuses and carnivals. There is often a wide range of performers in a sideshow, such as men who display their physical strength, which are strongmen, and sometimes there may be a bearded woman or even a man that is so hairy that he resembles a werewolf.
Usually such entertainers have nicknames that go along with their performances, often times having their name first, and then it ends with "the Great" or the "the Magnificent" or something like that.
As part of a large art collection in the Vanderbulge Mansion, the owner of the estate; Mr. Vanderbulge had a painting of a sideshow performer or circus performer that was a strongman.[2]
References
↑ As seen in Gulliver's Gigantic Goof (1973).
↑ As seen in the above image and in Gulliver's Gigantic Goof (1973).
External Link
Community content is available under
CC-BY-SA
unless otherwise noted.