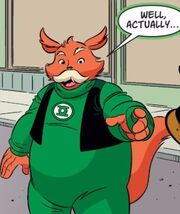 Sector 68 was one of the 3600 sectors of the known universe as designated by the Guardians of the Universe, which are the immortal Oan leaders of the Green Lantern Corps.
The Green Lantern known as G'Nort was the I.S.P. of that sector. His homeworld was G'Newt.
Locations
Known life forms in this sector
References
↑ As seen in Scooby-Doo Team-Up # 18 (November 2016).
External Link
Community content is available under
CC-BY-SA
unless otherwise noted.