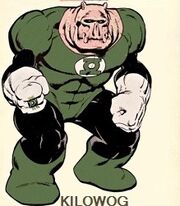 As named by the Guardians of the Universe, Sector 674 was one of 3,600 sectors that made up the known universe patrolled by the Green Lantern Corps.
The Green Lantern Kilowog's homeworld was located in this sector, and he served as the Intergalactic Space Patrolman of this entire sector, even after he was the last of his kind.
Locations
Inhabitants
Notes
Sector 674 first appeared in Green Lantern Corps # 218 (November 1987).[2]
References
External Link
Community content is available under
CC-BY-SA
unless otherwise noted.