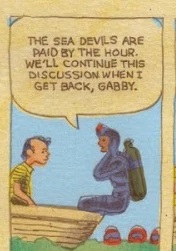 The Sea Devils were a team of undersea adventurers, who were eventually associated with the Forgotten Heroes.
Membership
History of the character is not known.
Flipper Dipper and Gabby of the Newsboy Legion were once talking about the Sea Devils in a boat. Prior to diving into the ocean, Flipper Dipper tells Gabby that the Sea Devils are "paid by the hour."
Background Information
On the parallel universe of Earth-One, the Sea Devils were made up of Dane Dorrance, Biff Bailey, June and Nicky Walton, Miguel, Molo and Sikki.
Although not superheroes in the strictest sense, they often helped such mighty men out, assisting them from threats of invasions from outer space; and they were often helpful when Aquaman wasn't around for underwater adventures.
Notes
References
↑ As seen in Super Powers Part Two (2016).
↑ For more information about that DC comic book, click here.
External Links
Community content is available under
CC-BY-SA
unless otherwise noted.