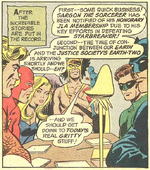 John Sargent was a stage magician, dressed like a swami complete with turban, to disguise the fact that he wielded true mystical powers. When John was a baby he came into contact with a piece of the Ruby of Life[1]
Background Information[2]

Over the millennia, the Ruby of Life was broken into several smaller pieces, one of which was discovered by an archaeologist in Egypt. Giving it to his wife, she wore it as a pendant. It was the first thing that their newborn child, John, saw and touched. Bonding with him in that manner allowed John to tap into Ruby's mystical energies. As a recent college grad, while John was visiting his mother, he discovered that the ruby would allow him to control anything he touches. He begins to study the tricks of stage magicians. He eventually became quite good and in high demand. At his mothers request, he took the named Sargon, The Magician as his stage name. Sargon was a Tiphranian, Priest-King.[3]
Sargon disappeared for a while, only to re-emerge as a villain due to an unfortunate side effect of possessing the Ruby of Life.[4]
A few years later, Sargon showed up to aid the Justice League in defeating Starbreaker.[5] This led to him being awarded an honorary membership in the Justice League.[6]
Powers and Abilities
Cast Illusions: The Ruby of Life, gives the bearer to control whatever they touches, among other feats.
Prestidigitation: Magic Tricks performed as entertainment.
Appearances
As a Wax Figure in late 1975:
Notes
Sargon first appears in All-American Comics, Vol. 1 #26 (May, 1941).[7]
He was created by John B. Wentworth and Howard Purcell.
External Links
References