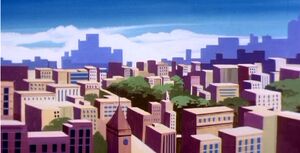 The City and County of San Francisco is the fourth most populous city in California and the 12th most populous city in the United States.
In 1776, the Spanish established a fort at the Golden Gate and a mission named for Francis of Assisi on the site.
The California Gold Rush in 1848 propelled the city into a period of rapid growth, increasing the population in one year from 1,000 to 25,000, and thus transforming it into the largest city on the West Coast at the time.
After three-quarters of the city was destroyed by the 1906 earthquake and fire, San Francisco was quickly rebuilt, hosting the Panama-Pacific International Exposition nine years later.
During World War II, San Francisco was the port of embarkation for service members shipping out to the Pacific Theater.
It is renowned for its chilly summer fog, steep rolling hills, eclectic mix of Victorian and modern architecture and its famous landmarks, including the Golden Gate Bridge, cable cars, and Chinatown.
Once, a talking albatross was spotted in flight over the San Francisco waterfront. It was either Hector or Helen, pets of Doctor Pelagian.[1]
Locations
Natives
Once Captain Cold froze this city with his giant freeze ray.
Episode Appearances
Coming Soon!!
References
External Links
Community content is available under
CC-BY-SA
unless otherwise noted.