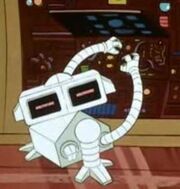 A robot was a machine, sometimes a computer and even sometimes an artificial intelligence that had the ability to perform tasks and think on its' own at times.
Some were every bit as intelligent as humans, and they could be atomic or electronic.
Androids were robots that were constructed to resemble Humanoids; whereas canindroids were robots that resembled dogs.
References
External Link