You may be looking for Robin (Jr. SuperFriends) and Teen Titans
You may be looking for Robin (Earth-Two, JSA Member).
See also: Robin (disambiguation) Page.
Series 1 – 1984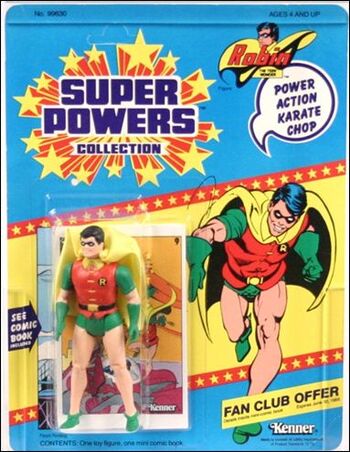 Name:
ROBIN
The Boy Wonder


Origin:
Dick Grayson grew up in the circus as a member of the Flying Graysons acrobatic act. When his parents were killed by a mobster, Dick was taken in by Bruce Wayne. As batman, Bruce took Dick on as a partner naming him Robin and channeling his desire for revenge into a healthy dislike for crime in general. As one half of the Dynamic Duo, Robin can scrap it up with the best of them, just watch out for his trademark puns.


Figure Stats:
Robin comes with a cloth cape. By squeezing his legs together he'll deliver a Karate Chop.


Comments:
Probably the best known of all the sidekicks, Robin has long tagged along behind batman in the toy world. Mold was reused for Toy Biz's DC Superheroes line.


Action Figure Line
Super Powers Collection

Manufacturer
Kenner
Community content is available under
CC-BY-SA
unless otherwise noted.