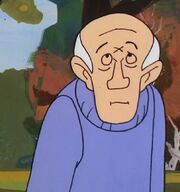 Retirement is the act of leaving one's occupation, usually because of age, or because one has accumulated a decent amount of money, to live the remainder of their lives without working a job.
Whether he's actually retired or not isn't clear, but the Super Friends affectionately call the Scarlet Cyclone by the name Retired Man, although he doesn't like being called that.[2]
During the era of the McCarthy hearings, a number of superheroes had retired, prompting the United States Government to bring back Task Force X.[3]
In the 1970s Maximus Mole was a retired professor of speleology, who enjoyed his retirement by searching for the legendary Bottomless Cave, which he does eventually discover, along with Molesville, an incredible subterranean jungle.[4]
On Earth-Two circa 1978, Superman retired, insisting that the JSA elect Power Girl for full-time membership to replace him.[5]
References
External Link
Community content is available under
CC-BY-SA
unless otherwise noted.