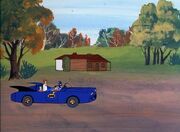 A rest break,[2] or simply break was a time of the day where someone rested from their occupation or another activity they were involved with. Some breaks were scheduled in a workplace for lunch, and others were scheduled so that an employee could smoke or have some coffee.
Most workplaces had areas or rooms designated for employees taking their breaks. For example, the Hall of Justice had a break room which was where the Justice League sometimes went to take a break.[3]
Marvin White and Wendy Harris took a rest break from their bike riding trip in Cave County. They rested in a clearing near the Mole residence.[4]
While spelunking in Bottomless Cave, Max Mole told his wife Minnie Mole that he needed to take a break, but she told him that they've got to reach Molesville and there's no time for breaks.[5]
References
External Link
Community content is available under
CC-BY-SA
unless otherwise noted.